The 25th season of the MTV series, The Real World will be going back to Las Vegas and be filmed at the Hard Rock Hotel & Casino, in a custom suite built just for the show.
[via] The Official Hard Rock Twitter feed, retweeted (later deleted and said to be posted in error.)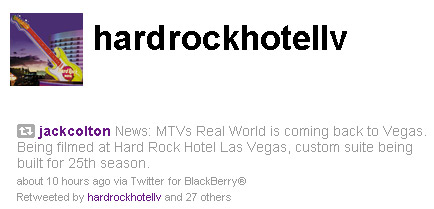 These listings were posted on August 16th, looking for Production assistants and a Production coordinator:
As noted, the email address [email]tvjobs92@gmail.com[/email] alludes to 1992, which was the year the show began. Also, the standard MTV language matches up with other job listings from previous seasons. Being they were looking to fill those jobs immediately, it would be safe to assume that filming will commence shortly and run through December (which means those of you in Las Vegas need to fire up those camera phones and set up camp at the Hard Rock!) This is the third time MTV has gone back to the Las Vegas well, the first being The Real World Las Vegas in the fall of 2002, followed by Reunited: The Real World Las Vegas in the spring of 2007 and finally the latest season, which should air in the Spring of 2011, following The Challenge: CutThroat.